Experience speaks for itself where it makes a difference
Discover excellence and professionalism in Dr. Pascal Dameh's clinic
Dr. Pascal Dameh is a specialist doctor with extensive experience in plastic and aesthetic surgery, a trainer and international speaker and Ambassador of the Romanian Medical Association for "Anti-Aging" Medicine, who has attended many training programs at major universities as well as national and international congresses throughout his professional career.
With an outstanding professional training, the doctor has made a name for himself in the field of aesthetic and plastic surgery based on excellent results. Those happy patients are proof of his work and dedication, leaving a strong mark on the domestic market. Passionate about his work, Dr. Pascal Dameh has also distinguished himself as an ambassador and scientific member of the Scientific Council of The Egyptian Society for Women's Health (ICC) and as a trainer in Romania.
Due to the dynamic nature of aesthetic surgery, with fresh studies and research being released in a near-constant stream, Dr. Pascal Dameh is always focused on his professional development, and on bringing new procedures to Romania in order to offer patients some of the best experiences and techniques suitable for each case. Recognized for some of the best results in breast implant surgery in Romania, Dr. Dameh was invited to Thailand in November 2022, as Romania's representative at the global forum, whose objective was to train doctors on breast plastic and reconstructive surgery. During this international meeting, bringing together the best doctors in the field, new breast surgery techniques and procedures were shared, with a special focus on ergonomic implants, easy recovery, safety and good practices in aesthetic medicine.
Now, Dr. Pascal Dameh uses new techniques that reduce post-surgery discomfort and allow patients much greater arm mobility. Many of his patients, who chose breast implant surgery, return to office work as early as five days after the operation, on the doctor's recommendation.
Dr. Pascal Dameh offers excellence in aesthetic medicine, relying on his solid track record of training programs at major universities. On this note, he has brought to Romania new innovative techniques to minimize pain: "There are many people who want to recover quickly after these procedures to improve physical appearance, and medical studies have been done in order to discover new techniques that allow patients to recover more easily after non-invasive and invasive procedures," said Dr. Pascal Dameh.
He also pointed out that patients used to suffer from great post-surgery pain and could not raise their hands for a long time after breast augmentation operations. Now, daily activities can be resumed much faster, with activities such as office work and driving an automatic car requiring only five and 10 days of recovery respectively. "Because post-surgery recovery is much faster, breast augmentation is one of the most requested procedures at my clinic," said Dr. Pascal Dameh.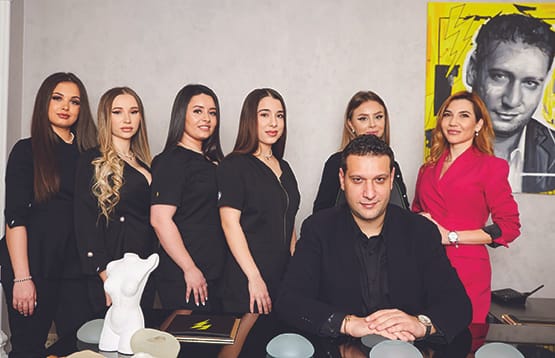 "Patients want this operation for several reasons, whether it is a long-desired dream, when breast size is not in harmony with the rest of the body, weight loss, pregnancy, or a rejuvenation of their appearance, because gravity works and the breasts will sag over time, even after breast implant surgery. It has been shown that people who have a strong self-image are usually more confident, effective in social activities, manage to develop their inner strength, and are more comfortable in their relationships," he added.
In the last 10 years, plastic and aesthetic medicine has made great progress, and these advances provide important benefits, as procedures are becoming increasingly accessible both to people who want aesthetic changes and to people who need reconstructive plastic surgery after various injuries.
Is there a recommended size for breast implants? What is your advice to patients who want a breast implant, and what are the aspects that should be taken into consideration?

"Breast augmentation surgery requires a deep understanding of the appropriate breast size and proportions. Most women want their implants to look natural. The key to natural-looking implants is choosing a size that is in perfect harmony with the rest of the body. A short woman can get a full and natural look with a smaller implant size than a taller woman who has a larger frame.
Choosing the right size can also eliminate back pain. Breast implants that are too large in relation to body size often lead to back pain, chest pain, sore throat and incorrect posture.
In addition, most patients need to change their natural sleeping positions, because after surgery they must avoid sleeping on their stomach or side for a period of time. Also, women who used to have very small breasts before the operation, will unconsciously walk with their shoulders bent, if they choose larger implants, which is a trigger for back pain. Back pain is generally caused by large implants, walking postures and sleeping positions, so it is important to have the right posture in order to relieve the pain," said Dr. Pascal Dameh.
Can a patient have a breast lift and a breast augmentation procedure at the same time? Do you recommend more than one intervention at the same time?

Breast lift is another popular surgical procedure, which is also known as mastopexy. This surgical procedure improves the shape of the breasts by removing excess skin and lifting them. Many women are dissatisfied with the appearance of their breasts and want a change as soon as possible, but this procedure is not recommended for everyone.
A general physical and mental health assessment is necessary. Moreover, it is very important to have realistic expectations of the treatment. Not every surgeon will do this procedure, because results cannot be guaranteed to last for a long time, and patients usually have very high expectations. A general rule of thumb is that women with healthy skin, healthy lifestyle, who have not experienced significant weight swings, causing their breasts to sag and become smaller in size, may be good candidates for breast lift and breast augmentation procedures at the same time.
In turn, women who have breastfed, have had weight fluctuations cannot expect the same results because the elasticity of the skin suffers and, many times, it is normal for them to need a second operation. In many other cases in my practice, I see women with more significant skin laxity, lesions (such as excessive stretch marks), wanting larger implants in order to avoid mastopexy, but I do not recommend it because the result would not last. By inserting implants, we add pressure on the skin, and trying to solve the problem with larger implants without mastopexy would only amplify the problem. Putting pressure on the skin tissue should be avoided, and large implants should be avoided too.
Any implant will put pressure on the lower pole of the breast, so there is always a risk that an implant will cause or exacerbate breast sagging. I recommend two-stage operations to women who do not have good skin elasticity, and need extensive mastopexy. Thus, the body has time to heal. However, the long-term outlook for these patients is less promising, as the weight of the implant continues to put pressure on the lower pole of the breast, and the skin may sag," Dr. Dameh said.

Being a constant presence at international congresses, Dr. Pascal Dameh focuses his undivided attention on patients, as he continues to be an important esthetician who seeks to obtain the most harmonious features and the best results both for people facing problems and for people who want an improvement, no matter how small.
"Good is not good enough, it has to be perfect! Choose quality and experience above all else, and dare to make a choice now that you will thank yourself for later."