GoldNutrition Be excellent!
Created in the early 2000s, GoldNutrition is a Portuguese sports nutrition, health, and wellness brand, which stands out with its proven product efficacy for all types of sports and other activities.
GoldNutrition Romania CEO Ioana Mihuț speaks about pioneering in sports nutrition 20 years ago, and about the passion allowing "a team to raise a brand to the heights of excellence, when it represents a set of values, rather than just a brand name".
GoldNutrition celebrates this year 20 years of excellence in the field of sports nutrition. What does that mean for your company?
This year, GoldNutrition celebrates 20 years since the brand was built on extremely strong values and on the belief that adequate nutrition is the only way to a fulfilling and healthy life. It is a brand that relies on an out­standing technical staff for whom quality has never been negotiable. In the early 2000s, in a predominantly bodybuilding mar­ket, GoldNutrition founder Custódio César, a nu­tri­tion specialist with strong connections in sports, identified the need for nutrition for­mu­las for outdoor sports. One such example is Fast Recovery, a recovery formula that has remained one of the most complete on the market for almost 20 years.
We have been extremely demanding with ourselves in the last 20 years, so we could be there for those who believed in us. The work behind the product and the perceived quality have secured us this position as a trusted brand. We conduct annual studies and colla­bo­rate with Portuguese universities and recog­nized research centers.
In Romania, the business was launched in 2015, and it set out with the same vision, mis­sion, and with the same values as in its home market, Portugal. We knew we had a very good, innovative product, but what helped us the most was that we borrowed the team spirit and the desire to create more than just a team, a family.
Today, Goldnutrition Romania family inclu­des our ambassadors, #goldathletes, our partners, as well as our end customers, with whom we have an extremely close relationship due to our role as an official partner in so many sporting events.
A lot can happen in 20 years. In one of the interviews given to the 'Goldathletes stories' project, Ancu]a Bobocel said that in her 20-year career she had circled the Earth twice. In 20 years, GoldNutrition has reinvented itself countless times, it had ups and downs, but it has always had the ability to adapt to new trends, create new products, and anticipate market needs.
What is your objective? What does sports nutrition mean, how important is it in the life of an athlete?
Our main objective is to satisfy the most com­plex requirements of both high-perfor­man­ce athletes and active people in general, who are concerned about their health and wel­l­being, or who want to recover after a hard workout ses­sion. We believe that nutrition is the key ingredient in developing and main­taining a healthy body. It is "the fuel of life". And that's why we want and believe that all people can achieve excellence through nutrition.
Sports nutrition is one of the three main pillars that contribute to an athlete's perfor­man­­ce (along with physical and mental training). It involves dietary recommendations, based on studies and scientific evidence, adap­ted to the characteristics and needs of each individual.
Generally speaking, a personalized diet is complemented by supplements, that must have anti-doping certifications for high performance sport. It is important for athletes to have con­fidence in the pro­ducts they consume. It is one of the reasons why GoldNutrition has remained a reliable brand, offering solutions for hydration, energy, reco­very and more. GoldNutrition is seen as a trusted brand by athletes and people who choose a healthy lifestyle.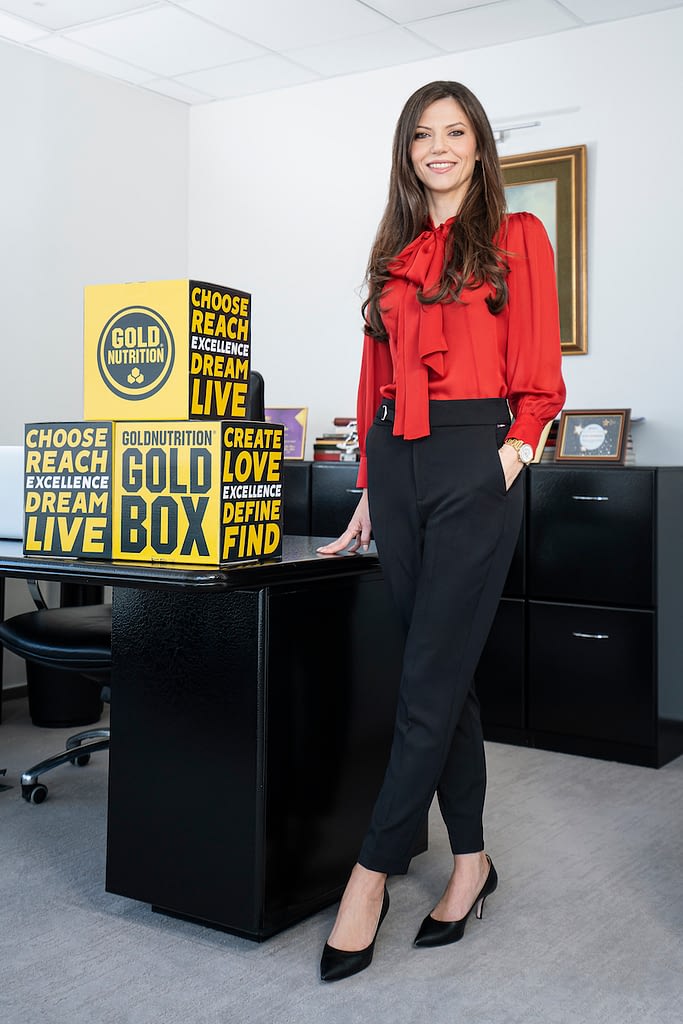 What helped the brand build its reputation in the market?
It all started with attending events, with an eagerness to be close and know the consumer, to educate, to explain the advantages of a balanced diet. Being close to our consumers has helped us to identify their needs and create relevant products for them.
The events we participate in as official partners are not just about sports, they are about socializing, feeling good, living with joy. So, over the years, our relationship with our customers has become very close and per­sonal. Now GoldNutrition is like family.
Our evolution and consumer confidence have been supported by innovation based on science and quality, by sporting events and sports ambassadors, all of which are funda­men­tal elements in communication.
The role of the #goldathletes community, GoldNutrition's sports ambassadors, is to pro­mote sport as the most efficient way to keep us healthy, and to help inform and educate athletes on sports nutrition, which, as I said, is a key factor in reaching goals. If certain pro­ducts help consumers achieve bold tar­gets, other products are crucial when mee­ting specific objectives, such as hydration, which must be done well in advance, for example, for an endurance race. In 2015, we sponsored our first team, a cycling team that had already been using GoldNutrition products. În the same way, the goldathletes România community wel­comed Marius Ionescu, Andrei Preda, Alin Alexuc, Ancuța Bobocel, Alin Firfirică, Mădălina Florea, Alina Vuc, Răzvan Ene, Andrei Duță, Alexandru Corneschi, well known names în high perfor­mance sport. The community has grown, and today we support athletes from many sports including canoeing, triathlon, wrestling, karate, boxing, and athletics. Among the latest GoldNutrition ambassadors we should mention Cătălin Chirilă, the recent holder of a world championship medal in canoeing, a medal that Romania has been waiting for 36 years. Brand confidence convinced Catalin to join us this year, as did Cosmin Gîrleanu, Miruna Mălăuță and many others.
Our ambassadors use our products and rely on them to achieve their goals. We are honored by their confidence in our brand and this is by far our best advertisement.
Internationally, GoldNutrition has supported over 1,000 athletes since early 2000s. Many of them are Olympians, from over 50 sports, and in Romania, we can talk about several hundred athletes, who in recent years have been sup­por­ted on their way to per­formance with anti-doping certified GoldNutrition products.
In addition to ambassadors, a large part of our commu­ni­cation budget is directed to mass sports, and 2022 is a record year from this point of view. GoldNutrition Romania has sup­por­ted over 100 spor­ting events, as the main nutrition partner, with more than 100,000 partici­pants.
After the pandemic, the mar­ket has changed and lifestyles have changed too, as many peo­ple have become more aware and started to adopt a healthy diet, and become more active.
The company has grown nicely in Romania, the visibility of the brand is obvious. But please tell us how it was in the beginning, when there was not much information about sports nutrition.
In 2015, the sports nutrition market was in its infancy in Romania, we were in a developing market but competition was strong.
Chan Kim and Renee Mauborgne's book, "The Blue Ocean Strategy", reminded me of principles with which I resonate. Those princi­ples gave us guidance in the beginning, and are part of our mission and values even today. Based on customer feedbacks and on the opinions of our goldathletes, who were already familiar with GoldNutrition products, we understood that we have in Romania an undisputed market space, because we had a trusted brand, in which we believed and athletes loved.
We had our path from the be­gin­n­ing, but a lot of education was needed, both at end consumer level and at macro level. We invested in ge­ne­rating relevant content, articles, we colla­bo­ra­ted with stakeholders, with impor­tant autho­rities in the field so that our principles could be supported from a medical and scientific point of view.
What is the key to GoldNutrition's growth to become an important name in the sports market today?
What has contributed to Gold's success in recent years?
The quality, nutrition expertise, the closeness and support given to our customers… if you don't have that and you don't have a good product, you can't expect outstanding results. A person tries the product once, but if it doesn't offer the expected benefits, they will not buy it again. Having a large number of loyal customers, who have been buying our products for years, says a lot about us as a brand. On the other hand, another key ingredient of success is an enthusiastic team of professionals who believe in what they do, and inspire others. Our special company culture is based on its people, because people make the decisions rather than companies.
What are your objectives for 2023?
As a promoter of innovation, what is GoldNutrition working on in terms of sport and wellness market nutrition?
High-performance sports nutrition is at the core of our DNA. That is why it's important for us to keep innovating, so that we can continue to be the top of mind brand for the athletes who trust us. On the other hand, the market has reached maturity, and achieved a wider customer base, amid increased adoption of active, balanced and healthy lifestyles. This emerging customer segment will dominate the market, so it is important for us to come up with the most diverse solutions, with products for everyday consumption, with an interesting nutritional profile, with good taste and at competitive prices.
2023 will be a dynamic year of expansion at national level, with the help of our partners. We want to strengthen our position on the market even more, and come up with nutritional solu­tions tailored for our customer needs.