Successful teams make successful leaders
Despite a fresh set of global challenges this year, CEC Bank President Bogdan Neacșu keeps a positive attitude and speaks about the ingredients of success and leadership in the banking industry.
How would you define successful leader­ship based on you own expe­rience?
In my view, facts and results should speak for themselves regarding the performance of a leader: the operational and financial re­sults, but especially the ability to put the business on a solid path. The measure of a leader's success is the success of his team. Without a team you can rely on, it's hard to succeed in any field.
The banking sector has certain speci­ficities: a banker must always know when to give a loan or not. We need to find the balance between the financing needs of the economy and a prudent approach. We are responsible for money entrusted to us and we need to apply this entire prudential framework into our day-to-day activities.
s What does it take for someone to become a good leader in your view?
I see leadership as a combination of power, influence, inspiration and charisma. Some are qualities that a person is born with, and others are gained over time, from expe­rience or learning. A good leader should have vision and competence, he should be smart, enthusiastic, but also show empathy and in­te­grity. So, a good leader must be HUMAN first.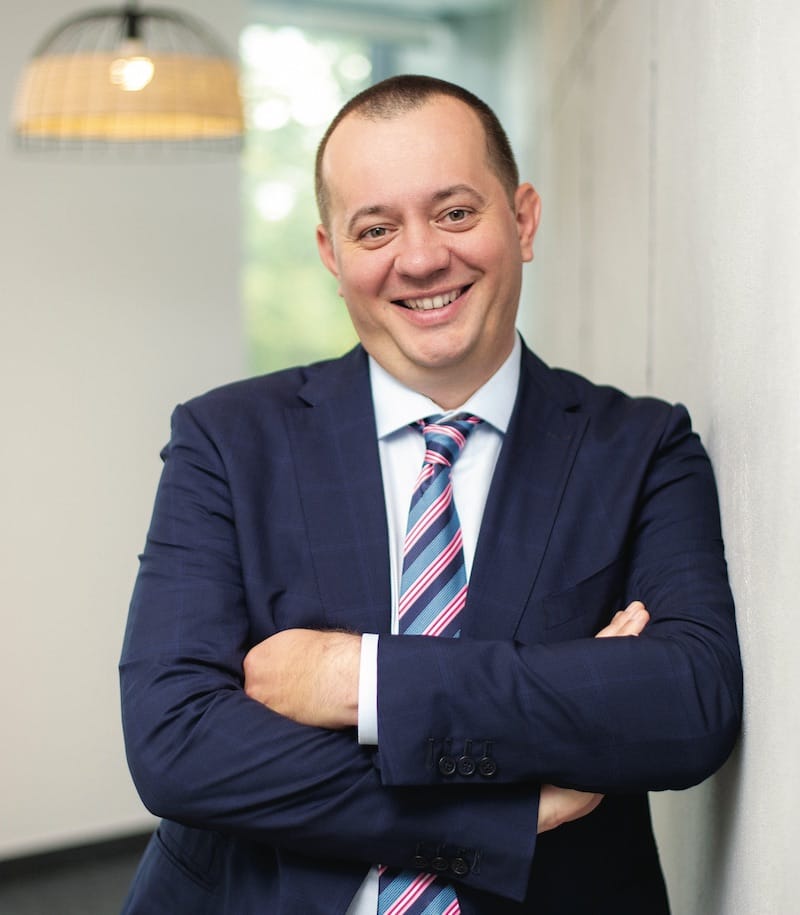 Who are your leadership role models and what makes them special?
Google, Apple and Amazon are com­pa­nies that are closely related to the digital revolution we are currently going through. We all search the internet, check our emails on the phone and order products online. And we are living in the same age with those who brought these innovations to market. What I appreciate about them is the fact that they had a vision, that they imagined ways to make life easier for millions of people. And their vision shaped our reality. And even though they have encountered obstacles along the way, they have managed to grow business worth tens of billions of dollars.
What is your favorite leadership style and why?
I believe in a participative management style. I like people who are always eager to learn, to extend their skills. And to turn these qualities into factual results. I really appre­ciate people who are not afraid to take deci­sions. It is very important that we, as the management team, have a team we can rely on, people who do things on their own initiative and are able to deliver on projects. It is important to have a core team and to feel that they are moving along the same path. That's what I aim for: under my leader­ship, I want a team able to take respon­sibility.
How do you align your organization with your vision and mission?
In the banking sector, it is important for everyone to understand their role and to be part of a complex system. Banks are the heart that pumps blood (money) into the economy, and every person in the system is a wheel that has a clear role. I expect all my colleagues working in this system to be aware of the responsibility they bear for depositors' money and the prudent approach we need to take when granting a loan. These are the things we have in common, and the way we want to build the future is what differentiates among banks.
CEC Bank is a unique project: a bank that after the Revolution faced a significant de­cline in market share and suffered from a lack of investment.
And we won, in 2019, a major oppor­tunity: through the recapit­ali­zation approved by the European Commis­sion, we can adjust our business strategy and we can invest to modernize the bank. We are in the phase of building a modern, sus­tainable CEC that is growing on the market. It is very important for me that the new CEC is our project, and not a recipe that we have received from outside.
How do you keep your team motivated?
The entire team understood that CEC Bank needs to become a modern and competitive bank.
We have a business plan with clear ob­jec­tives announced at the end of 2019, aiming to strengthen CEC Bank's market position. Over the last three years (2019-2021), we have managed to have a 72% increase of assets and we have taken important steps in modernizing the bank: CEC Bank was among the first banks in Romania to launch online opening of accounts and a 100% digital flow for loans.
And we continue to digitize the bank. Our goal is to develop a hybrid business model in which the bank's products are available both online and through the physical network. We will continue to bring banking products and services to our CEC_IN online shop. In 2021, we launched the online opening of accounts for SMEs and the online issuance of letters of guarantee and we are working on online loans for SMEs. In parallel, we are working to improve the bank's IT infrastructure – a complex program which includes an ERP so­lu­tion, core banking system and more.
All these projects are the result of the work of colleagues from the CEC Bank team and are proof of their commitment. I think the best motivation is to see results, that your project comes to life. And the fact that we have doubled the number of digital cus­to­mers, that we managed to outgrow the market in certain segments – are the most important motivational drivers.
How do you continue to grow and develop as a leader?
My mentor was one of my teachers, who advised me in the first professional years to try out being a banker to gain experience. He also advised me to always be open to lear­ning. I have always considered that I was part of the first generations who could contribute to a professional banking system, and I have followed this path. Professionalism was the brick that mattered most in the way I built my career. Doing things well and being reco­g­nized as a professional in the field is one of the principles that guide me. What I set out to do for the next period is to put CEC Bank in the top of the banks and turn it into a modern and competitive institution.
What qualities are lacking among today's leaders?
There are situations in which leaders tend to focus more on financial targets and less on the human area, whether we are talking about the relationship with employees or custo­mers.
At CEC Bank, we have tried to be as close as possible to our customers: we have maintained our footprint, the largest in Romania, with over 1,000 banking units and we are the only bank in Romania with an extensive presence in rural areas. Between 2008 and 2021, 43% of the bank branches closed, and the number of employees in the system decreased by more than 25%. We have been close to our clients, for better or for worse, and when they had problems, we tried to identify the best solutions. I believe that empathy – the ability to understand people's problems – is a quality that I would like to see more often among today's leaders.
What is the most dangerous trait in a leader's career?
To be drunk on power.
What dominant economic trendsare expected in 2022 and how are they going to affect yourbusiness operations?
After two years in which the adaptation to the pandemic was the main focus on the agenda, I hope that 2022 will mark a return to normalcy. These two years have been characterized by a volatile and unpredictable environment, but if I were to see the full side of the glass, it was a context that taught us to be more agile and to digitize faster. We are entering 2022 with new challenges: infla­ti­onary pressures present not only in Romania, but globally – rising energy prices, a labor market probably reshaped after two years of work from home, the conflict in Ukraine, and disruptions of supply and production chains.
We, as a bank, constantly monitor and analyze the evolution of the main economic indicators, we are in touch with customers and very attentive to the signals that come from the market.
And for 2022, the key elements will be the developments in the region, inflation and unemployment and how the crisis in the energy market will evolve.