Business Arena recognizes financial sector success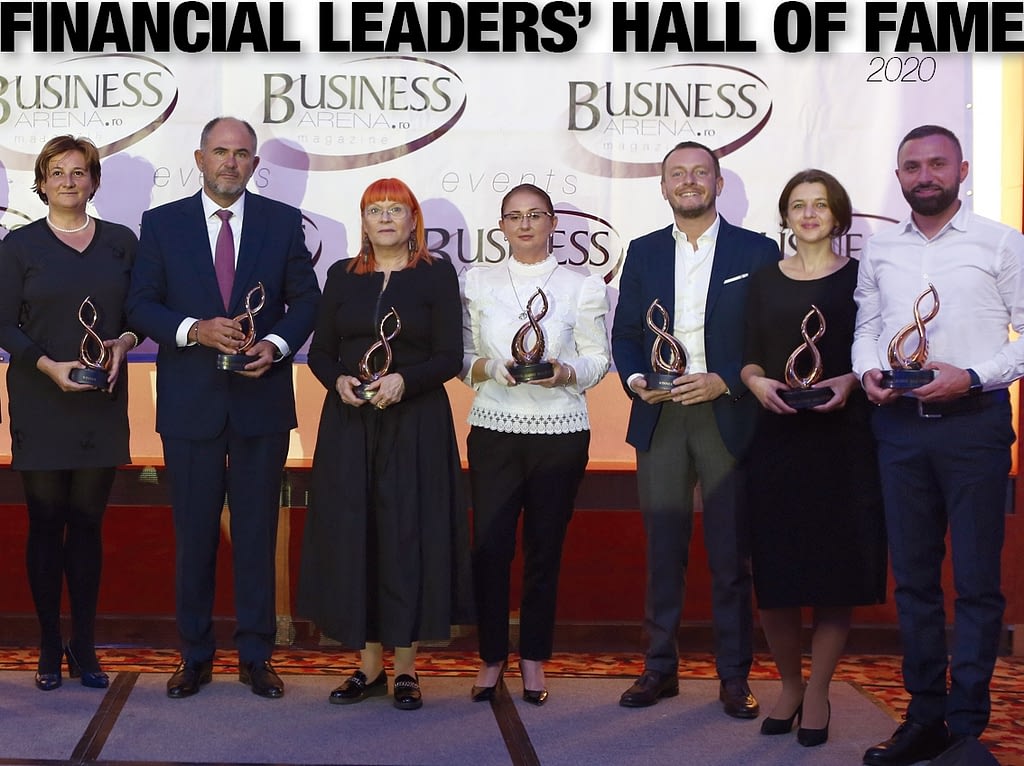 Digitalization and online access to banking and financial products and services shape the future of the industry, while the coronavirus pandemic has had a significant contribution to speeding up the process.
As we come to the end of a year dominated by health crisis constraints and electoral pressure, Romania's banking and financial sector is looking back proudly on its success stories, while assessing the challenges ahead. In this context, Business Arena continues to salute and recognize the efforts and achievements of successful companies, banks, entrepreneurs and investors. Dubbed the engine that drives the economy, banks and the financial sector came into focus last night, as Business Arena held its annual Financial Leaders' Hall of Fame awards gala, in the presence of banking and financial leaders, professionals and diplomats.
Operating in a highly competitive environment, banks and financial institutions have made outstanding progress in introducing new and innovative products and cutting-edge technologies in order to adapt their business model to the requirements of the new millennium.
However, the business environment hasn't offered the best conditions for development. The economy contracted 10.5% on an annual basis in Q2, contrasting Q1's 2.4% growth, as Covid-19 containment measures took their toll. Looking ahead, GDP is seen contracting this year as the coronavirus pandemic deals a heavy blow to the economy. Experts agree that prolonged Covid-19 containment measures will continue to subdue private consumption, while disrupted value chains are set to hamper capital spending. Moreover, the country's worsening budget deficit further clouds the outlook.
Coming back to last night's awards gala, the special event was moderated by Andy Alexandru Antemia and organized in partnership with Raiffeisen Bank, Garanti BBVA, CEC Bank, First Bank, Apulum Porcelain Factory, World Class Romania, Via Viticola, Casa Anke, Kanal D, Trends By Adina Buzatu, Aida Events, Ramada Bucharest Parc Hotel.

See Business Arena's upcoming print edition for more details, photos and winners' reactions.
THIS YEARS' WINNERS:
BEST FINANCIAL ADVISER
KIWI FINANCE
For outstanding growth and excellent overall results while ensuring the highest health safety standards for both customers and employees in a pandemic-dominated economy.

BEST MOBILE BANKING USER INTERFACE
FIRST BANK
For its innovative strategy and outstanding success in creating a highly intuitive mobile banking solution and for itsefforts to promote pioneering products and services.
BEST USE OF TECHNOLOGY IN BANKING
BANCA TRANSILVANIA
For digital transformation, strategic thinking and innovation in expanding its internet-based banking services that provide new cutting-edge functionalities to BT Pay users.

OUTSTANDING FINANCIAL EDUCATION PROGRAM OF THE YEAR
RAIFFEISEN BANK
MONEY BISTRO
For its continued support of financial education projects for all ages, facilitating the proliferation of financial literacy and understanding of the skills and concepts of personal finance.
BEST BANKING STRATEGY
LIBRA INTERNET BANK
Recognizing superior planning and strategy reflected in Open Banking through APIs and successful development of digital partnerships with major international Fintechs.
RETAIL BANK OF THE YEAR
ING BANK
For successful operations in one of the most competitive financial market segments, with outstanding products and services for its expanding customer base.

CORPORATE BANK OF THE YEAR
CEC BANK
For achieving a high level of recognition and responding better than any other bank to corporate customers' needs and expectations in a highly competitive market segment.
BANK OF THE YEAR
GARANTI BBVA
With the highest level of net profit among its peers in 2019 and in H1 2020, Garanti BBVA displays a sound set of results as well as a leading strategy of investment in technology, innovation and focus on customer service.
BANKER OF THE YEAR
SERGIU BOGDAN OPRESCU
For achieving a high level of recognition from the business community for outstanding results and creative leadership, reflected in Alpha Bank's sustainable growth and brand recognition in the Romanian market.